Posts Tagged "Craps"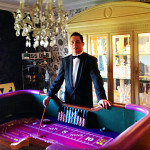 At Fun Casino Royale we bring all the excitement of Las Vegas and Monte Carlo to you with this fast and exciting game.
Craps or Dice is a game where players make wagers on the outcome of a roll of two dice. Craps is one of the most exciting casino games in the world. It is common to hear yelling and shouting at a craps table.
Easy to play, simply place your bet on the Pass Line and roll the dice! Seven or Eleven you win, Two, Three or Twelve you lose.
At Fun Casino Royale we only use Professional Dice Dealers that have years of experience working in the finest casinos around the world and can easily guide your guests on how to play.
C.
Our Games